10 | 2016
Gaëlle Lauriot-Prévost Design / Dominique Perrault architectures
éditions Norma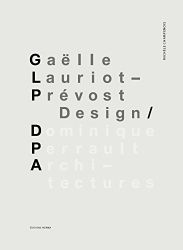 THE BOOK
Gaëlle Lauriot-Prévost Design, Dominique Perrault Architectures (GLP/DPA)
, by Michèle Champenois, journalist and architecture critic, highlights the work of
Gaëlle Lauriot-Prévost
, from the beginning of her collaboration with Dominique Perrault – her treatment of the interiors of the Bibliothèque nationale de France – up to the restructuring and refurbishment of the
Dufour Pavilion in the palace of Versailles, as well as the furniture and objects she has designed under her own name.
Richly illustrated with photographs and drawings, the book offers a detailed presentation of ten major projects, from the Grand Theater of Albi to the office buildings of the Pont-de-Sèvres in Boulogne, from the tower in Vienna to the Arganzuela footbridge in Madrid. The use of metal mesh, in numerous motifs and uses has become emblematic of the designer's work. In an essay titled "In situ design" and in the texts presenting her completed projects, Michèle Champenois, deciphers the interplay of her interventions and reveals the powerful harmony of her creative dialog, which ensures the modernity and longevity of her architectural work.
THE AUTHOR
Michèle Champenois is a journalist and architect and design critic. At Le Monde, in the 1980s, then at Le Monde 2, the magazine, from 2004 to 2009, she followed the latest trends in these fields. She has collaborated on other publications, such as L'Architecture d'aujourd'hui, and radio broadcasts for France Culture. She is the author of Andrée Putman, ambassadrice du style (Skira Flammarion, 2010) Marc Held, 50 years of Design (Norma, 2015), Olivier Gagnère (Norma, 2015).
N O R M A É D I T I O N S
149, rue de Rennes 75006 Paris
Tél. : 01 45 48 70 96 – Fax : 01 45 48 05 84
Mail : editionsnorma@wanadoo.fr