01 | 09 | 2017
Dc Tower I - Not twins, but one tower split in two
A monograph devoted to the DC tower I in the business district of Donau City of Vienna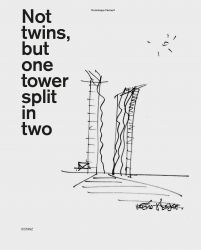 Three years after its construction, Distanz Verlag publishes a monograph devoted to Vienna's DC I tower, a monolith with folded facades, which has become emblematic of the city and its neighborhood.

On the banks of the Danube, the tower, the highest in Austria, visible from far away, is a new symbol for the Austrian capital and a gateway to the new business district, providing a connection between historic districts and new urbanized areas, while shifting the attractiveness of the city towards its banks.
Through 56 photographs, taken between 2014 and 2017, the artist Markus Krottendorfer provides an overview of this building; an elegant discovery of its urban location as its interior spaces where stone, metal and concrete mix, its structure as its glass facade waving under the light.
Date de publication septembre 2017
Langue Allemand / Anglais
Auteurs Christian Muhr, Christian Kühn
Photographies Markus Krottendorfer
Editions DISTANZ Verlag, Berlin

Design graphique Atelier Liska Wesle, Vienne/Berlin

Format 26.5 x 33 l 159 pages
ISBN 978-3-95476-209-5
Prix 42€