01 | 01 | 2020
open online course about the Groundscape architecture
GROUNDSCAPE ARCHITECTURE DESIGN LAB / RE-THINKING CITIES UNDERGROUND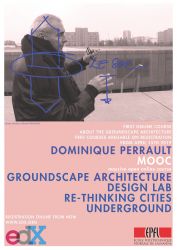 The Ecole Polytechnique Fédérale de Lausanne and Dominique Perrault present a MOOC (massive open online course) about the Groundscape architecture.
This architecture project course is intended not only for architects, urban planners, landscapers, students, but also for anyone interested in one way or another in the development of cities and the territory.
Free, this course is available on the edX teaching platform. It will include six weeks of theoretical and pratical instruction.
A
course about the Groundscape architecture
A new field of research for architects, designers and urban planners, this unique form of architecture explores the spatial potentialities located beneath the surface of our cities. It offers a different way of exploring the soil by providing a resilient, responsible, aesthetic and sustainable response to the many current urban challenges.
The reflections and experiments related to this new field of study have been conducted for several years in the SubLab, an academic think tank and multidisciplinary research platform founded in 2013 by Dominique Perrault at the Ecole Polytechnique Fédérale de Lausanne (EPFL). Along with SubLab teachers Richard Nguyen, Ignacio Ferrer Rizzo and Juan Fernandez Andrino, Dominique Perrault is offering for the first time an online course, wich will allow each student to acquire the fundamental skills necessary to design a project about the undergournd architecture.
It will offer a discovery of the underground territory, in order to reverse the negative perception associated with it. It will also make viewers more familiar with urban strategies, design tools and basic construction processes necessary for the creation of underground spaces.